L'Envin represents winemakers producing organic, biodynamic and natural wines.
We are a distribution and marketing agency for organic and natural wines
We believe in personal and sincere relationships, as well as strong, fruitful partnerships for everyone. The winemakers we represent also count on our ability to develop their visibility in Paris and the Paris region, towards HORECA professionals – wine bars, restaurants, cellars, hotels – as well as Parisian consumers and tourists.
AGENCY & WHOLESALE
Have our wines delivered to Paris / Paris region, or ask us about specific shipments anywhere in France and abroad. L'Envin's red trolley is quite famous in the streets of Paris… 
Prices on demand, terms and conditions apply.
Marketing
Winemakers – develop your visibility in Paris, France and abroad! Passionate about street art, the founders of L'Envin work with winemakers and artists to develop unique labels, specific to the wines that carry them.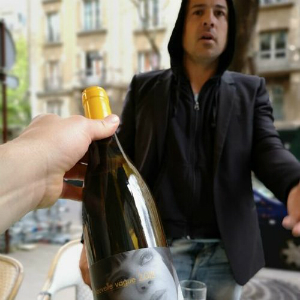 Wilfried Valat
La Nouvelle Don(n)e
Philippe Chigard
La Table Rouge
Jérémy Dupraz
Domaine Dupraz